Snippets of Information
GANESHA


* 7 Jul 2022
Temples with 108 Lord Ganesha idols
108 Pillayar Kovil in the Karaikudi town, Sivaganga district, Tamil Nadu.

One Large Ganesha idol surrounded by `107 smaller idols at
Kalimuthu pillai 2nd Street, Govindapuram, Dindigul 624001, Tamil Nadu.

108 Ganesha Temple, 5th Main Road, 2nd Stage, Kumaraswamy Layout, Bengaluru


* 13 Oct 2021
The Ganesha Purana describes the 32 forms of Lord Ganesha and among them, Mahaganapathi is widely worshiped. The first 16 forms of Ganesha are known by the name "Shodasa Ganapati" and the later ones are known as "Ekavimsathi".
1. Bala Ganapathi, 2. Bhakti Ganapati, 3. Dhundhi Ganapati, 4. Durga Ganapati, 5. Dvija Ganapati, 6. Dvimukha Ganapati, 7. Ekadanta Ganapati, 8. Ekakshara Ganapati, 9. Haridra Ganapati, 10. Heramba Ganapati, 11. Kshipra Ganapati, 12. Kshipra Prasada Ganapati, 13. Lakshmi Ganapati, 14. Maha Ganapati, 15. Nritya Ganapati, 16. Rinamochana Ganapati, 17. Sankatahara Ganapati, 18. Shakti Ganapati, 19. Siddhi Ganapati, 20. Sinha Ganapati, 21. Srishti Ganapati, 22. Taruna Ganapati, 23. Trimukha Ganapati, 24. Tryakshara Ganapati, 25. Ucchhishta Ganapati, 26. Uddanda Ganapati, 27. Urdhva Ganapati, 28. Varada Ganapati, 29. Vighna Ganapati, 30. Vijaya Ganapati, 31. Vira Ganapati, 32. Yoga Ganapati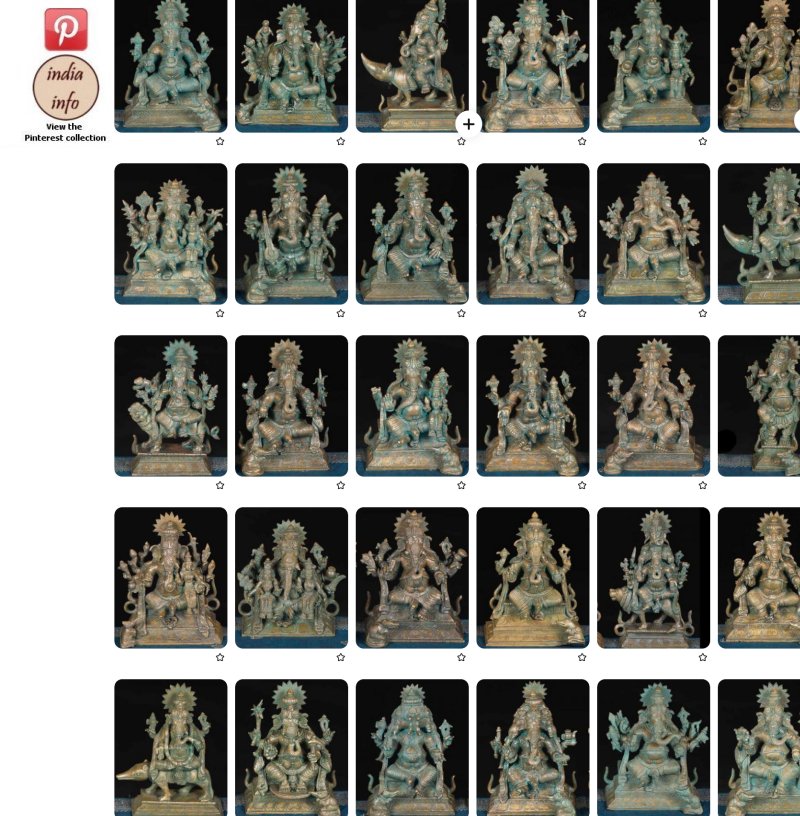 Images and text Source: lotussculpture.com


* Jul 2021
Scientific reasons why Ganesh Chaturthi should be celebrated
The destructive and Tama-predominant Yama waves reach the earth in greater proportion during the 120 days from Ashadha Pournima till Kartik Pournima. Their intensity is greater during this period. However, during this period of greater intensity (meaning, from Bhadrapad Shukla Chaturthi to Bhadrapad Shukla Chaturdashi), Ganesh waves too reach the earth in greater proportion. This helps reduce the intensity of the Yama waves.

On Shri Ganesh Chaturthi, as also during the days of Ganeshotsav, Ganesh Principle is a 1000 times more active on the earth. Worship of Shri Ganesh in this period bestows greater benefits.
References: Monthly Sanatan Prabhat, englishsanatanprabhat.blogspot.in


* Jul 2021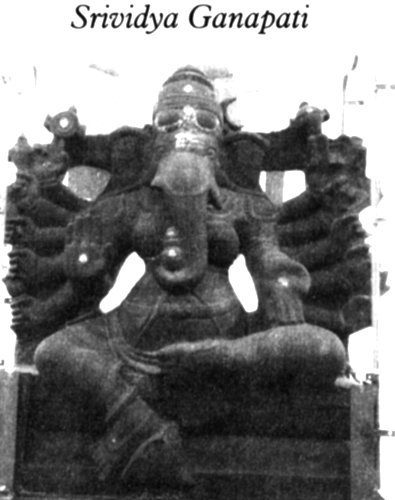 Srividya Ganapati
This idol is in the Veda Vedanta Gurukula Mahavidyalaya in Swetha Sringachalam, a unique school dedicated to the cause of propagating and perpetuating Vedavidya in the Gurukula system - Sri Vidya Ganapati is a very rare aspect, endowed with twelve hands, Chandrakala (crescent) with feminine features.


* Jul 2021
Blessings bestowed depending the material used to create Ganesha
If made from
clay, he bestows high & respectable positions
puthu sand, he bestows profit
jaggery, he bestows all round prosperity
salt, he bestows support to overcome enemies
stone, he bestows abundant wealth and goodness
white erukku, he bestows ashta (eight) aishwaryams
flour, he bestows victorious life


* Jul 2021
There is an idol of Gajamuga Anugraha Vinaayagar in the Nandi Mandapam of Madurai Meenakshi Amman temple. He is seen seated on his father Shiva's lap. His mother Parvathi is seated next to Shiva. The Ganesha is of red complexion, holding two hands together in prayer, holding the angusam in the thrid and paasam in the fourth. Gajamuga Anugrahar is the pose in which Lord Siva is seen giving anugraham (blessing) to Lord Ganesha.


* Jul 2021
The Ganesh idol in a temple in Thirupurambiyam near Thanjavur is unique. This Vinayagar is known as Thaen Kudittha Vinayagar (Vinayagar who drank honey). Abhishekam is done to this vigraham, only once a year on Vinayaga Chathurthi. The vigraham draws in every drop of honey offered as abhishekam.


* Jul 2021
There is a Vinayagar temple in Tiruvaarur, near the Tyagarajar Koil. The Vinayagar here is clothed in a dhoti covered with ink marks. Students believe that sprinkling the ink from their pens and praying before an exam gets them the support of Lord Ganesha.